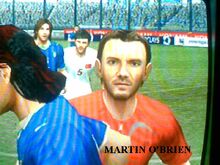 Martin O'Brien is an Irish-born English football referee who last appeared in Pro Evolution Soccer 6. O'Brien is, alongside German Johann Weikath, a lenient referee, not exactly who you could call a suitable piece of ref.
BIO: Martin O'Brien (Irish Gaelic: Máirtín Ó Briain or Máirtín Uí Briain) was born in 1970 in Muckanaghederdauhaulia (Muiceanach idir Dhá Sháile), County Galway (Contae na Gaillimhe), Connacht (Cúige Chonnacht), Republic of Ireland. He started as an amateur footballer in his home town, but soon had to leave football to study in the University. He is a mathematician, currently teaching in a High School in Galway (Gaillimh). He is married and has 3 kids. When he doesn't teach in the High School, he spends his time fishing in his vacations home in Weston-super-Mare, England.
Ad blocker interference detected!
Wikia is a free-to-use site that makes money from advertising. We have a modified experience for viewers using ad blockers

Wikia is not accessible if you've made further modifications. Remove the custom ad blocker rule(s) and the page will load as expected.